Xena - Warrior Princess
This page is brought to you by CINESOUTH.com/tv - for the best south indian entertainment
Telecast on AXN - Action TV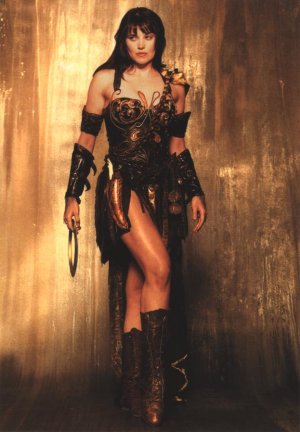 Click here for the telecast timings in India
Cast:
Lucy Lawless as Xena.
Renee O'Connor as Gabrielle.
Bruce Campbell as Autolycus.
Hudson Leick as Callisto.
Ted Raimi as Joxer.
Kevin Smith as Ares.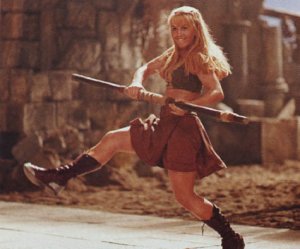 Synopsis:
Xena is set in the "Golden Age" of myth, long before Ancient Greece or Rome, in a distant land of known civilization. The whims of capricious Gods and the greed of human tyrants make her world a treacherous one.
Persued by the evil warlord Draco, Xena travels from town to town & battle to battle as she invariably finds herself caught between the innocent and the forces of darkness.
Gabrielle with her fiery tongue and quick wit continues to journey alongside Xena.
Together they travel and work together to create a land that is free from tyranny and injustice. A combination of mythology and martial arts action, Xena: Warrior Princess is filmed in and around Auckland, New Zealand.
,
Websites
http://www.xenafan.com/ Xena fan page. Xena Downloads, multimedia, xena bloopers, pictures and more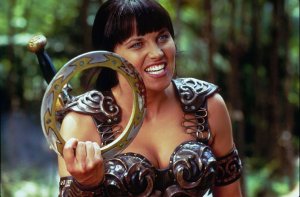 http://www.studiosusa.com/xena/ Xena episode guide from USA studios.

http://www.woosh.com The Journal of the International Association of Xena Studies. Episode guides, articles, Xena FAQ, air dates

http://www.xenawp.com/ Nice Xena fan page. Chat, forum, downloads and image galleries

http://frodisman.com/lucylawless.html Lucy Lawless Bio, Picture gallery pics of her childhood.
http://www.cinesouth.com South india's favourite entertainment site
http://www.cinesouth.com/tv/ TV news, reviews of shows, schedules, cable tv, info on programs telecast in indian subcontinent.
© Cinesouth.com